Have you ever seen the movie "Something's Gotta Give?" It's a rom-com featuring Diane Keaton and Jack Nicholson, but the real star of the film is the jaw-dropping coastal home Diane Keaton's character owns. Seriously, it's worth watching just to see this house. We bring this up because one of our favorite parts is the coastal home office in the master bedroom.
The film's heroine is a writer who works from home, and, boy, she does it in style! If you're lucky enough to own a coastal home, odds are you work as hard as you play. While our motto at Cottage & Bungalow is "escape to your home, " we know that sometimes work has to tag along. But we really must insist that you make sure you have a beautiful home office space for it.
To recreate the comfortable and cozy look of the office in the film, go for traditional but un-fussy pieces. Pair an elegant writing desk with a rolling chair in a classic shape.
We love how simple this beach home office is. No complicated color schemes or crazy patterns here. The comfortable-looking couch and ottoman invite you to relax and enjoy the beautiful light coming in the window. You couldn't be stressed in this room if you tried.
While it may be tempting to shove your work space in a corner, resist. Pick a beautiful room or nook that will make you feel inspired. The wall of windows in this coastal office  keep it light and bright even with the dark navy wall color.
If you only need a space to answer emails or fill out bills, consider using a single landing space that can double as storage for other uses. This bureau features a fold out desk surface with tons of customized storage. When you're done working, simply fold the tray and you have a stylish chest of drawers.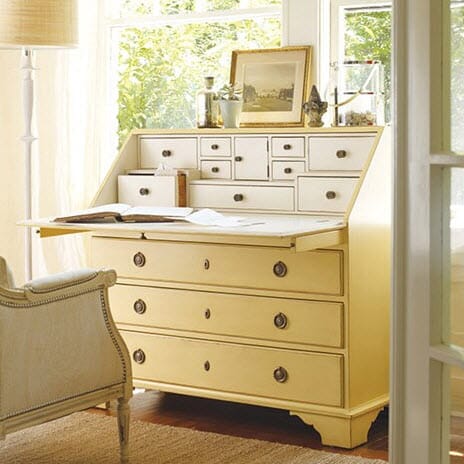 Don't take your design too seriously. Remember, you're at home. Be creative with your storage space and use an eclectic mix of accessories that you wouldn't bring into your professional office.
For even more inspiration, visit our complete office collection online.