The trend for bringing natural materials into your home is holding strong. Since we are all about the beach we are partial to the idea of  using shells in your home decor. From a small shell encrusted box to a serious statement dresser – shells add welcome coastal style. Even if you don't live near the beach shell accents can be a great reminder of that special annual beach vacation.
Our lovely White Shell Box is created by shell artist Marjorie Bloom. She is considered one of the world's most talented shell artisans and her shell accessories are collector's items.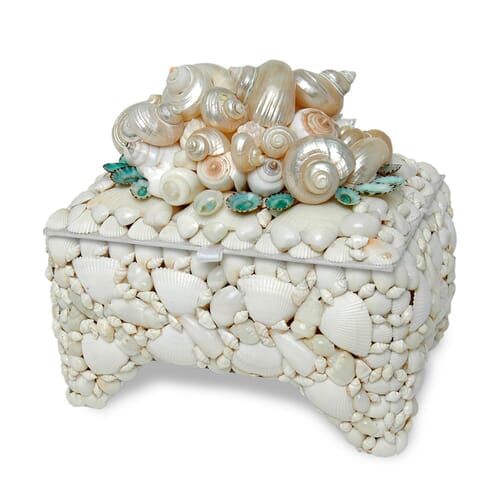 If you want to go high impact our Marchmont line of shell encrusted furniture features a dresser and sideboard. We LOVE these! We like to call furniture like this "game changers" since a room is transformed with the addition of one of these pieces.
Check out our new Pinterest Board featuring all things shells. Curious what Pinterest is all about – read all about it here.