We were lucky enough to attend High Point Market this past April, and we got a peek at what's in store for interior design trends in 2013. One style we think works particularly well in coastal homes is design crafted around found objects. This trend is characterized by using unconventional and unique items, like baskets or bottles, to create home decor items. Found pieces in coastal homes lend an air of nostalgia and will make your home feel one-of-a-kind.
These homeowners used old Coca-Cola crates and cut glass to create a coffee table that doubles as a display case for their coastal treasures.
Guests will toast your taste when they first see this custom chandelier made from 16 Chardonnay bottles.
Tea lovers will appreciate this floor lamp crafted from teapots, teacups, and saucers. Creamy white paint unites the different pieces and keeps the lamp from looking cartoonish.
A shed antler chair looks rustic and contemporary at the same time.
Weathered panels hide the television and are a work of art themselves.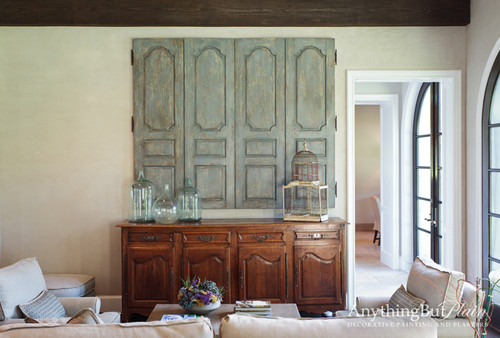 This cart-turned-chandelier looks like it has been around for centuries.
Designing your coastal home with found objects is as easy as it is fun. Once you start looking, you'll find inspiration everywhere you go. Do you have a favorite one-of-a-kind decor piece? We'd love to hear about it on our Facebook page!