A classic coastal home invites you in with a warm, welcoming environment only to make you smile with its stylish beach-inspired charm. When it comes to creating classic coastal interiors, it's all about organic textures, seaside hues, and nautical touches.
Here are some of our favorite pieces for getting the classic coastal look.
A  one-of-a-kind Middleton End Table brings a natural look to any traditional or transitional living room.
A Fresh American Trimaran Striped Pouf adds a splash of color while providing a convenient multi-purpose seat and surface. This versatile piece works in any space from living rooms to kids' bedrooms.
A couple of casual yet elegant coastal throw pillows can make beautiful waves in a space. From geometric designs to intriguing prints, like peacock feathers, peonies, or other scenes from nature, these decorative pillows in subtle beach hues are unlike any you'll find in an ordinary home store.
A piece of art from nature photographer Ken Buckner will instantly bring the beauty of the beach indoors with breathtaking seaside scenes. You're sure to fall in love with the coast even more with these gorgeous shots.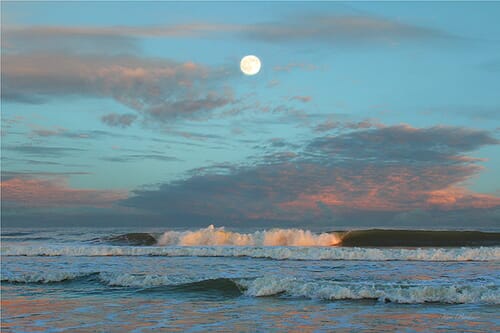 You can't get the classic coastal look without a bit of blue. Illuminate a space with our Hubert Lamp boasting a cobalt blue glass-blown base. With its English tooth molding and gorgeous blue color, the Cambridge Double Bookcase does much more than offer ample storage for books and decor. The playful Dottie Blue rug brings invigorating blues and greens to the table through a whimsical design patterned using a vintage hooked technique.
Find more coastal home furnishings and decor to bring your home or beach house to (sea) at Cottage & Bungalow.