Your bedroom is the place you go to unwind, dream, and recharge: a haven where you can escape from the tumult of the world, even briefly. It's a romantic concept, and that's exactly what the space should be: romantic. Of course, "romantic" can take on a lot of different meanings, depending on your particular style. But, we think there are four fundamental elements that underlie all romantic coastal bedrooms.
4 Elements of Romantic Coastal Bedrooms
1. Great Lighting
No lighting will ever beat mother nature. Natural light casts an angelic glow in this room. Make sure your window treatments allow for sunlight to flow in during the day.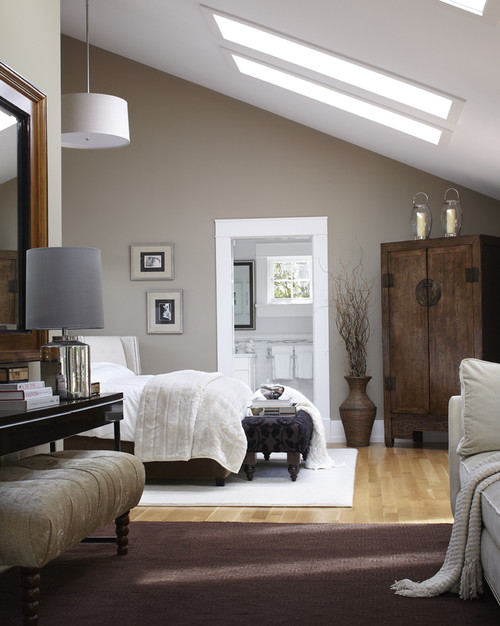 When the sun does go down, a sleek and sexy chandelier takes center stage.
A fireplace in the bedroom screams romance. Don't have a fireplace? Candlelight is equally romantic.
2. Layers of Luxury Bedding
Mix and match textiles, bed linens, and duvet covers to make the perfect coastal bedding sets and upholstery in differing patterns in the same color families for an eclectic look that will make your guests envious.
We love that this designer chose to continue the floor-to-ceiling curtains all the way behind the headboard of the poster bed.
A ruffled bed skirt, layers of blankets, and double-hung window treatments: it's the perfect formula for feminine and romantic.
3. Plush Seating and Beds
A custom bench flanked by sconces and paired with coastal beds mimics the look of a built-in window bench.
An old-world deep seated chair and ottoman look oh-so inviting by the fireplace.
4. A Standout Moment
 A sky-high canopy topped with a dramatic twist looks like something out of a fairy tale.
A statement chandelier paired with a fun wallpaper is one way to make a space romantic and relaxed at the same time.
If you have the space, think about "floating" your bed in the center of the room. It creates an instant focal point.
Whether your style is modern, traditional, nautical, or anything in between, there's nothing stopping you from creating a romantic feeling in your coastal bedroom while staying true to your aesthetic. If you're designing from scratch, there's no better place to start than with Cottage & Bungalow's coastal style bedroom furniture. Take a look at our options. Most of what you see can be customized as well!